<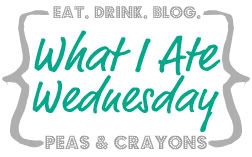 Happy Hump Day…again! I don't know why but this week feels like it is going by at a glacial pace for me. Perhaps that can be accurately depicted in this disaster edition of What I Ate Wednesday.
Let's take a look:
Breakfast: All went well with breakfast. I had Hummasapien's Pumpkin Pie Green Smoothie. This is definitely going to become a regular thing for me. I will probably have it nearly every day until I can't stand it anymore…the mark of a truly great recipe.
Lunch: Everything was still going well…I had some leftovers of the Maple Stuffed Sweet Potato. I don't think I can sing enough praises of this meal. Cooking tempeh in maple syrup is probably the most genius thing of all time.
Snack: Yeah… It was that kind of day at work….
Dinner: This is where things went wrong. Very wrong. I got. Home from work way later than expected and so cooking what was listed on my meal plan was out of the question. What's easy and delicious? Trader Joe's Meatless Mandarin Chicken and Brown Basmati of course!
But it somehow becomes much less delicious on the floor.
At this point it was pretty late and I was pretty mad so I searched my fridge for the fastest and easiest thing I could find. This ended up being the world's tiniest cheese quesadilla on corn tortillas. Less than thrilling.
I'm still mad about the Mandarin Chicken.
Here's to a better showing next week!
Want to know more about WIAW? Check out Peas & Crayons.
What are you eating this Wednesday?